Players who have Membership (also known as Bin Tycoon Membership) can earn much more in Bin Weevils. Membership requires a membership card (which you can buy at Clintons, Game, Sainsbury's, WHSmith, Wilkinson and Tesco) in the UK & Ireland. You can also buy it online at the Bin Weevils website here.
Membership was released in Bin Weevils in sometime 2007. Not many players bought it at that time. Most online virtual world games require membership.
As said, you can do fun things with membership, such as buying exclusive Nest Items and seeds for your garden, become a SWS agent with access to missions, earn monthly Dosh coin rewards, expand your Nest, get iconic top hats (including more hats), VIP entry to Bin Parties, earn Mulch through your Tycoon businesses, adopt a Bin Pet, change the look of your Bin Weevil, exclusive BinCard rewards, chance to win Best Nest Trophy, expand your garden, and much more.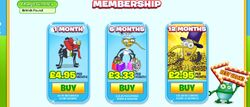 1 month - £4.95
6 months - £19.95
12 months - £35.40 (best value!)
Prices of Membership. Membership require a paid membership card.
Membership represents a little top hat.
You can do lots with Membership.
In the virtual world of Bin Weevils, Memberships are referred to "Bin Tycoons" or "Tycoons".
Bin Tycoon Gallery